All prices are verified before the Boxed Romance Bargains are posted, but prices are subject to change. Please be sure to verify the price on Amazon before downloading a book.
Don't miss out on these hot daily deals!
Featuring books up to $2.99!
Don't have a Kindle? Don't worry. Read with the FREE Kindle App.
Today's Featured Boxed Set comes from May Sage for just 99 Pennies!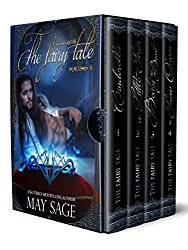 Buy It Here!
Step into a realm where fairies only help out when they are bored to tears or obliged to do so.
Instead of Prince Charming, meet a bunch of sexy alpha males.
Cinderella doesn't want anything to do with her King, and her biggest aspiration is suing the shit out of her step mother when she can afford to do so.
Erik isn't all that fond of the mermaid with red hair, but he definitely fancies the sea witch.
While the Beast is something of a recluse, he sees plenty of action in his casino-slash-sexclub…
And Kai's more interested in the mysterious girl who seem to control his frozen wasteland than in Gerda.
This bundle includes a lot of your favourite characters, only everyone is all grown up, and definitely sassier. What's more? All of them are standalone novels – not short stories, no cliffhanger.
Warning: expect smexy scenes and swearing.
Boxed set temporarily discounted.
Cinderella
The King needs an heir and that means finding some sort of woman to do the job;
"That's all it's about, ultimately: basic, carnal compatibility in order to satisfy this need. For that reason, the pictures I request of those who wish to apply are explicit. The full prerequisites are attached to the correspondence. If you aren't comfortable with these demands, don't bother applying."
Ella responds…
« Dear Daniel Franko Phillipe Del Luz,
I've applied to guarantee that I'm not summoned to your little orgy.
Fuck you. We aren't all stupid.
Ella. »
It was supposed to go through an automated system;
she didn't expect anyone to read it…
Let alone the King
A little Siren
Silvia Undine, otherwise known as the Sea Witch, has enough of hiding.
All she did three years ago was saving a child and his father, but she stands accused of causing the storm, and as a consequence, has been banished from her seas.
Enough of that. Defying the ruler of the seas, she goes back where she belongs.
Everything would be peaceful, if it wasn't for the three Kings who fight over, against, and for her.
The King of Alenia has taken a wife and Erik of Denker knows it's his turn; after three years spent searching for the one woman whose ever mattered – the one who saved him and his son from drowning – he has to give up and choose an alternative.
He does so, tying himself to the first suitable option, just when Silvia step in his kingdom.
Beauty and the Beast
"Let me tell you one thing, Beast: if your Prince ever returns, watch his back. There are thousands who would gladly throw daggers at it."
And Belle would be first in line.
Ten years ago, he was Prince Aiden, heir of Jereena, at the top of the world – now, they call him Beast.
Aiden has landed on his feet, his exclusive club is the place to be, he makes hundreds of thousands a night.
What else could he possibly want?
Belle grew up during the Anarchy, and the corrupted system screwed her, big time, but she managed to get by.
Then, her stupid brother goes and steals from the Beast, who demands her as payment.
Well, her, a pile of cash, or her sister – option two and three aren't acceptable.
The Snow Queen
Kai, heir of the dilapidated clan who's established residence in the most dangerous mountain on Gaia to avoid persecution, has enough problem on his plate. For starters? Finding enough food. Lack of running water. Keeping the kids alive – and out of the slave trade.
The torrential snow.
But when he sees that innocent, defenseless girl who persists in staying in the cold wastelands all by herself, he can't close his eyes, she becomes his to care for.
She's the last full fledged goddess residing in Gaia and that mortal wishes to save her.
Men are stupid.
[table "" not found /]